Our History
Working Together to Meet Your Needs
Since opening doors in September 1988, we have worked with all types of customers; from the Head of the Construction Firms to Contractors or Design Professionals to the occasional Home Owner.
We started in Columbus, Ohio and have grown to have a location in every major city in Ohio, three locations in Pennsylvania and three in Indiana. With a wide range of Building Materials; each of our locations is stocked with an array of materials – from Drywall to Metal Studs to Fire Treated Lumber. We can also transfer product between branches to ensure your order is filled correctly, when you order it. Need a specialty product for your project? Our state of the art inventory system can notify our Purchasing Department to get that order in for you as quickly as you can think of it.
Each of our branchs operates within 100 miles of itself. This means we can get the materials you need, anywhere in the state. Not only can get them on site for you, but we can also handle job site conditions. Do you need your Drywall board delivered on a specific floor or story of the building? No problem, our Boom Trucks reach all the way up to 90 feet!
We go the extra mile to ensure your materials are right where you need them. Contact your local Interior Supply Branch to find out how we can get your job completed when and how you need it.

Interior Supply is also a proud member of AD – Building Materials Division. "A group of tightly knit distributors that are focused on helping their fellow members as well as our supplier partners grow and succeed."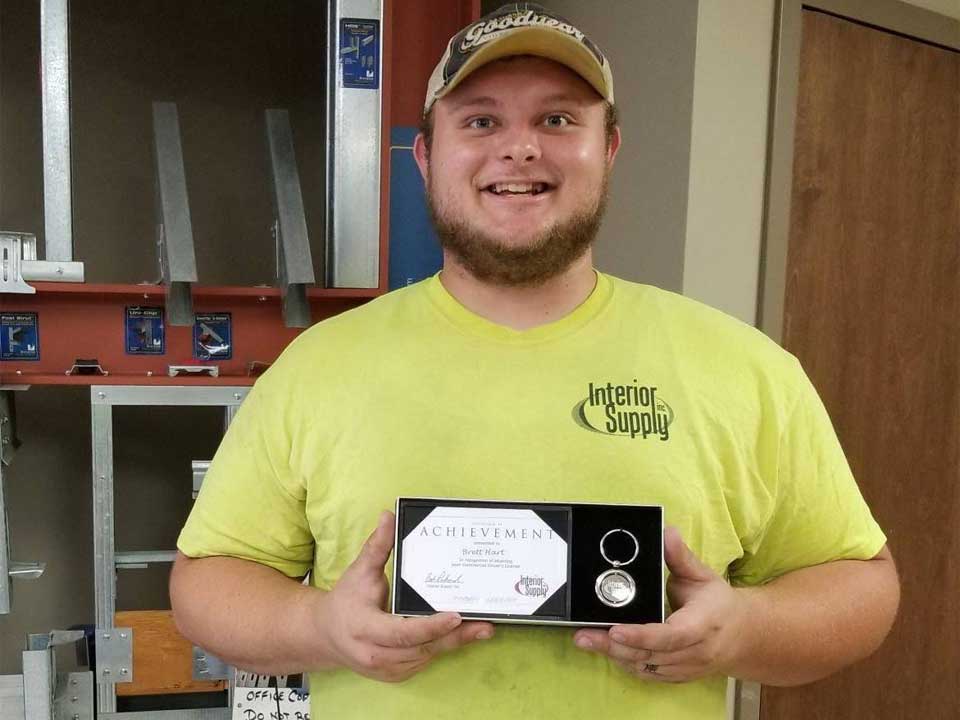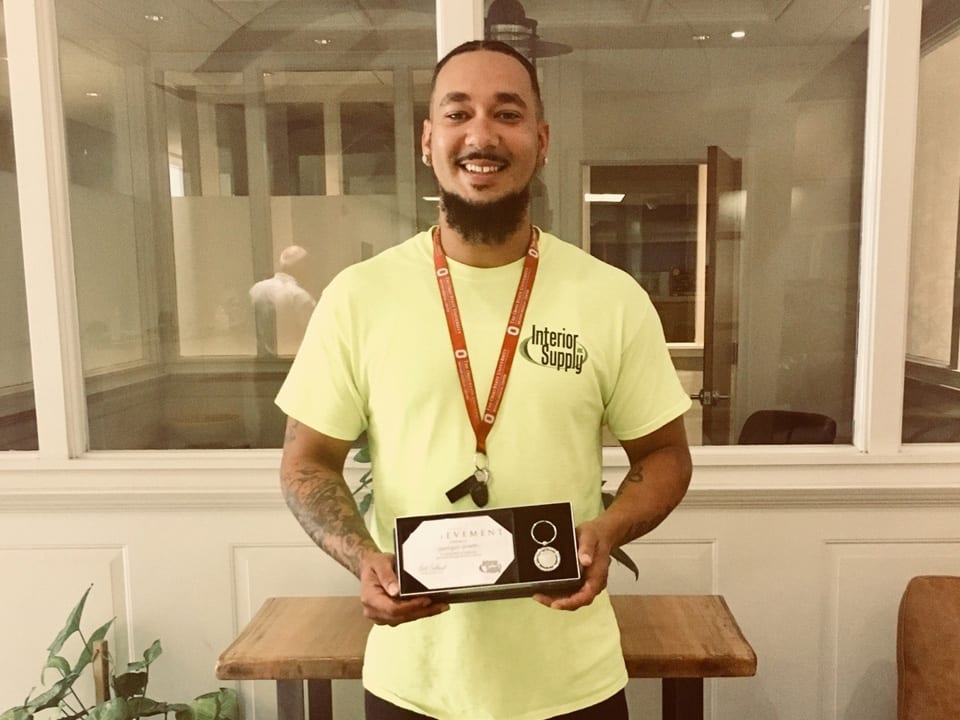 Our People
We Are Only As Good As Our People
Interior Supply is comprised of a two-part system that makes our company run like a well-oiled machine. From our first rate sales staff to our personable logistics team, we have a continual commitment to our customers and manufacturers. Each of our 11 locations have an extensive fleet to ensure that we can get customers the right product, in the right quantity, at the right time. Our time-tested approach leads to happy clients, and happy employees.
Join Our Team
Jobsite Safety
Dedication to Safety in the Workplace and Project Sites is Our Passion
Interior Supply Inc. employs a full time Safety Manager responsible for the delivery of Training and Education to every employee in the workplace with Safety Requirements and Expectations being the prime focus. Our Safety Manager, DJ Stewart, serves as a reliable resource that mandates and enforces safety policies and training, as well as provides a continuous review and inspection of job sites. Working closely with Human Resources and the Management Team, DJ works toward pre-planning for hazard assessments, conducting inspections for noncompliance or unsafe practices, identifying and communicating trends in the company's safety performance and assisting in the correction of deficiencies.
Introducing this position has allowed us to continue aggressively monitoring, developing and succeeding in the area of incident prevention. Our health and safety practices, programs and policies are centered upon fundamental principles and values set forth by our executive leadership and management team. We are determined to provide an exceptional business interaction to those acquiring materials and services from our Branches.
Our goal is to ensure our associates and third parties experience a safe and quality transaction, free of disturbance or incident. "Interior Supply, Inc. strongly believes Safety is a team effort. Our management team is responsible for collaboratively overseeing, enforcing and encouraging safety. Our staff is committed to providing a safe and healthful work environment for all individuals in our Branches and Project sites.
"This commitment is exhibited through active prevention of incidents as well as consistently maintaining open lines of communication in order to preserve and promote a safe work environment." – DJ Stewart, Safety Manager.
Our Safety Manager is also available to work with your safety team to ensure all parties remain in compliance with OSHA standards and regulations in addition to any other policies or regulations required by your particular jobsite or setup.
Jobsite Delivery
Not Just On-Site Delivery,
We Deliver Exactly Where You Need It
As one of the largest building products distributors in Ohio, Pennsylvania, and Indiana, serving small contractors to large construction companies. Using our fleet of trucks, we can get you the materials you need, when you need them. From drywall to metal studs to ceiling tile and grid, we can get your materials to you — exactly when you need them.
Why spend your time, money and gas on picking up materials at one of our warehouses when our experienced delivery team can take care of it for you? Whether you are a small contractor or a commercial builder, you can give us a call and arrange delivery from our nearest warehouse to you. Let us take care of the running around, and you can concentrate on getting your project completed. The more you can focus on the job at hand, the safer and more efficient it will be for everyone involved.
Not Just on-site Delivery, Right to the Project
We don't just bring your materials on site and drop them off. We deliver right to where you need them. If you need the drywall on the third floor, we get it there. Does your grid need to get to six different places in the building? No problem. We can take care of it. Our trained, professional delivery team will take care of it all. You don't need to worry about damaging the materials or existing walls and surroundings.
95% Delivery Within Two Days
With locations all over the state, and so many deliveries being made every day, we are able to get materials quickly on site. We pride ourselves in the fact that all orders reach their destination within two days, 95% of the time.